1977J logo (1977 Josephine)
The 1977J logo I designed for branding the renovation and resale of 1977 S. Josephine St. The coolest part: seeing my logo in brushed stainless steel, eight feet tall, mounted on the front of the building.
The Remaking of "Campus Manor"
One of my favorite logo/branding projects was my work on 1977 Josephine. The new owner definitely wanted to replace the dated and ridiculous "Campus Manor" awning, but he wanted to do something unique and interesting with the space above the front door.
"Campus Manor" (1977 S. Josephine St.) street view, spring 2007. This is the original appearance of the building.
I worked with the new owner and came up with this logo for the property: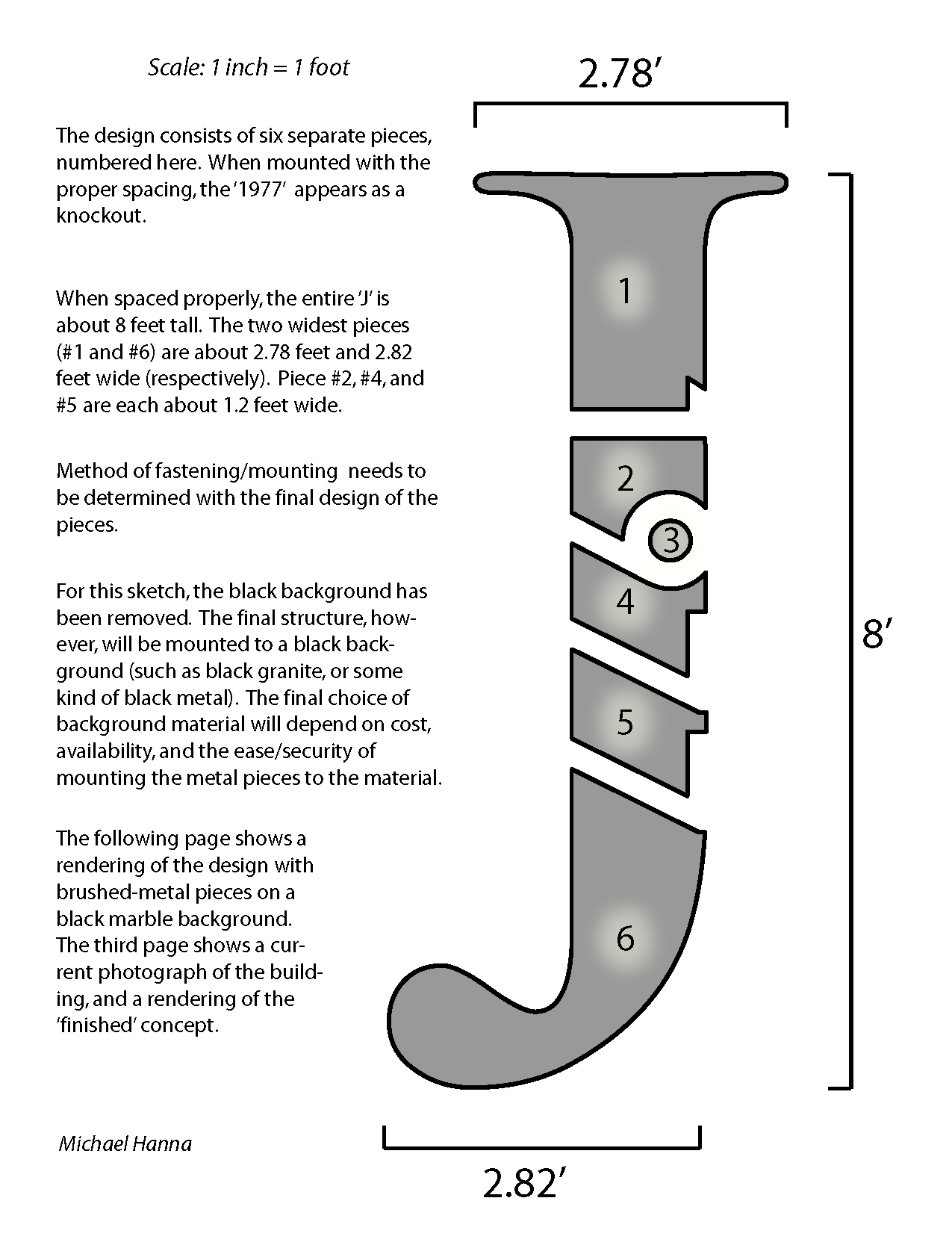 Design of the 1977 J logo: 8' tall stainless steel structure mounted to the front of the building.
The design looked good in the mock-up I put together.
Artist's rendition of proposed renovated appearance (by Michael Hanna, created summer 2007).
I got the green light from the owner and we started looking for a metal-worker to cut out an 8-foot stainless steel "J" and mount it on a huge Corian slab. I could only cross my fingers and hope the real thing would look as good as it did in my head...
November 2nd, 2007: J-Day
We didn't have any machinery to help with the heavy lifting, but we had a lot of manpower. When we left that day, the 1977J was the new face of the building.
(The metal-worker wanted to leave spacers in to help stabilize the 1977J during transport and installation.)
The Finished Product
The metal-worker cut out the spacers, we had a new canopy made, and when all was said and done, the final result looked a lot like my artist's rendering. This picture was taken in winter 2008, so the vegetation isn't as lush. But the 1977J logo looks awesome.
We used the logo extensively in branding the building and marketing units for sale/rental. I'll post some examples of how I implemented the logo in other contexts.